Original Fells Point Haunted Pub Walk Tour
Original Fells Point Baltimore Haunted Pub Crawl Tour  |  Baltimore Ghost Tours
To order by phone call: (877) 293-1571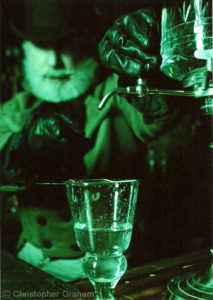 The Original Fells Point Haunted Pub Tour will return in March 2017! Join our sister company, Baltimore Wicked History Tours, for the Fells Point Wicked History Pub Tour January-February.
Join Baltimore Wicked History Tours as we take you on back to when Fells Point was a colorful, dangerous place to visit, crawling with sailors, privateers, ladies of the night, and immigrants looking for a better life. Tempers ran hot with people who had nothing to lose and those looking to exploit them.  But Fells Point had its bright spots with luminaries like Billie Holiday and Edgar Allan Poe roaming these historic streets. Come take our Fells Point history pub tour and crawl and experience Baltimore's scandalous history! This is a Baltimore history tour like no other. Some might call it wicked.
The Original Fells Point Baltimore Haunted Pub Walk
The Original Fells Point Baltimore Haunted Pub Walk will return in March 2017! The Original Fells Point Baltimore Haunted Pub Walk Tour sells out EARLY- if you plan to come with a group, everyone in the group MUST buy tickets at once, or risk members of your group being shut out.
Step through the doors of some of Fell's Point's most haunted pubs for a fascinating haunted pub crawl tour of this historic maritime neighborhood. Taverns in Fells Point have always been the rowdy stomping grounds of locals and visitors alike looking for a good time and a drink, and today it's no different. Join the crowd and belly up to the bar like times past. If your arms break out into goosebumps, and the hair on your neck stands up, it may be because ghost sightings have happened all around you. Join us for a haunting experience! The Fells Point Haunted Pub Tour is for 21 and older only. Group tours available! Corporate Events, Convention Groups, Birthday Parties, Bachelor and Bachelorette Parties, and More. Please see our group tours page for more information.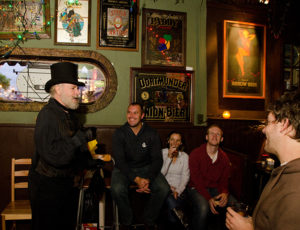 Prices: $20/pp, 21 and over only. Valid ID required.
Dates:
Saturdays: March – Nov. Fridays and Saturdays July- Nov. 7:00pm. In October we have haunted pub tours at various times- your tour time will be on on the ordering page and your receipt.
Departure Location:
The Original Fells Point Baltimore Haunted Pub Crawl Tour departs from the sidewalk outside of Max's sidebar (next door to Max's) on Broadway, at 731 S. Broadway near the Fell's Point Square (MAP) in Baltimore, Maryland. Please be at least 15 minutes early to the tour and check in with us when you arrive. Please give yourself plenty of time to get to Fells Point and find parking.  A map that shows a parking garage is here [MAP].