Mt Vernon Ghost Tours | Baltimore Ghost Tours
To order by phone call: (877) 293-1571
The Mt Vernon Ghost Tour runs Saturdays in October 2022! This tour can be booked as a group tour year round, any evening, based on tour guide availability. Please see our group tours page for more information or email us at info@baltimoreghosttours.com
Baltimore's Mount Vernon, the city's cultural center, may be more "spirited" than you think. Admire the architecture while tour guides regale you with the history and haunted lore of this striking neighborhood that was home to many of Baltimore's leading citizens on the Mt Vernon Ghost Tour. Hear about those who have never checked out of the Belvedere, a séance gone wrong, and more than one grand dame who still oversees the activities of her home. Join us to pull back the curtain and peer into the other side.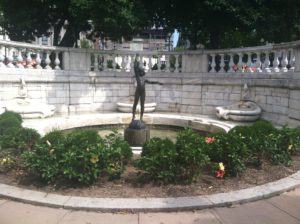 Tickets: Advance tickets: $17/ pp.

Dates:
The Mt Vernon Ghost Tour runs every Saturday in October at 8:00pm.
Available as a group tour, any time, year round!
Departure Points 8pm tours:
Saturday 8:00pm Mt Vernon Ghost Walk Tour departs from the sidewalk outside of the Belvedere at 1 Chase St in Baltimore, Maryland. Tour lasts approximately 1 hour-8:00-9:00pm.
Group Tours
This tour is available as a private group tour any night of the week, based upon tour guide availability. See our group tours page for more information. Book Now or email us at info@baltimoreghosttours.com for more information!